Sunday morning dawns. Many of the folks heading back up to the Park City / Salt Lake City area were driving up together, continuing driving on the fun roads (just informally). While we would have loved to join the group, both Nugget and I were pretty tired. We had plans to meet friends at a beer festival at one of the ski resorts in the area and did not want to stress about time. We chose to head back on our own schedule & route.
This meant I actually got breakfast at that breakfast place, and I wasn't stressed about the long, slow line! I ordered biscuits and gravy. That's not always a good plan at a place not in the South, but I'd seen it the day before and it looked good. Others had said it was a good place, and our pastries the day before were good, so I suspected the biscuits and gravy would be, at worst, "good enough". They were delicious, served cut in half (like I prefer – most places don't do that), and with a more generous gravy portion than many places offer. They were served with eggs and potatoes, as well, both of which were great. Just as we'd been told Friday night, give the restaurant plenty of time, and you'll get great breakfast there!
We headed up to Salt Lake City by the more direct route. This still started on fairly small roads, just ones that weren't quite as twisty. Passing on these two lane roads is so much less stress in a car like this than in so many others. Yes, there are other fast cars, but with this one... I turn the dial to "Race" and wait patiently for the opportunity. Despite being in Race mode, it stays in high gear, feeling calm and relaxed, as traffic, curves, whatever go by and we wait for an open passing zone. When one appears, that steering-wheel-button turn signal is under my thumb, waiting for me, easy to push. Because it's in race mode, that twitch downward of my foot means the transmission takes itself down a few gears. The turbo spools up fast and we're accelerating hard. Past the car, my right thumb hits that turn signal button, and we move back to our side of the road. The benefit here isn't just that it's fast – I've passed in other fast cars and on a motorcycle. It's difficult to put into words just how quickly and also smooth and low stress this is. The car transforms itself, based on the speed of my inputs (and the lateral G and yaw), into and out of an edgy sports car in fractions of a second. I have exactly the dynamics I want at any given moment.
As we made it onto the interestate the car and I relax into a gentle pace and movements. We're going quickly, yeah, but without two-lane-road passing to do I don't need quick responses, so the car settles. The car transforms itself from a Boxster GTS to a big Merc sedan, just because I relaxed a bit. We make it to our hotel, check in, drop off all our stuff, and head out to meet our friends. Getting to the ski resort means more twisty roads, but with the festival and good weather they're packed with other cars, so there's no room to drive playfully here. Our friend had warned us there wasn't much parking at the festival site, but there was a shuttle from a bigger lot. We went straight to the big lot and took the shuttle. It was a quick ride, and we soon met our friends in a big field. We chatted about life and things... as the breezes changed. It got cooler. Rain started to roll in and people scattered. The rain wasn't hard, I'd have been fine, except... I left my jacket in the car. Nugget offered to go get it (and his own jacket), and that sounded great. Except, I realized a few moments later, I had the car key.
He hadn't waited for the shuttle, long lines due to the rain. He was heading back to the car at a slow run (he's a runner, why not?). So I took off running after him. We got our jackets and took the (empty, because rain) shuttle back up to the event. By the time we got back the rain had stopped and it was sunny. Isn't that how it always works, you go get your jacket and the weather changes? Still, I'd have been cold without it even in the sun, so it was worth it.
Evening, and dinnertime, approached. Our friends wouldn't be joining us for dinner, but they did recommend a place that sourced their food locally with a constantly changing menu. Sounds interesting, lets go! We drove off the mountain and into town, street parking across from the place. As we walked away from the car, we realized that light sprinkling of rain had pooled all the dust the car had gathered over the dry weekend. The car was spotted, like it had some sort of skin disease!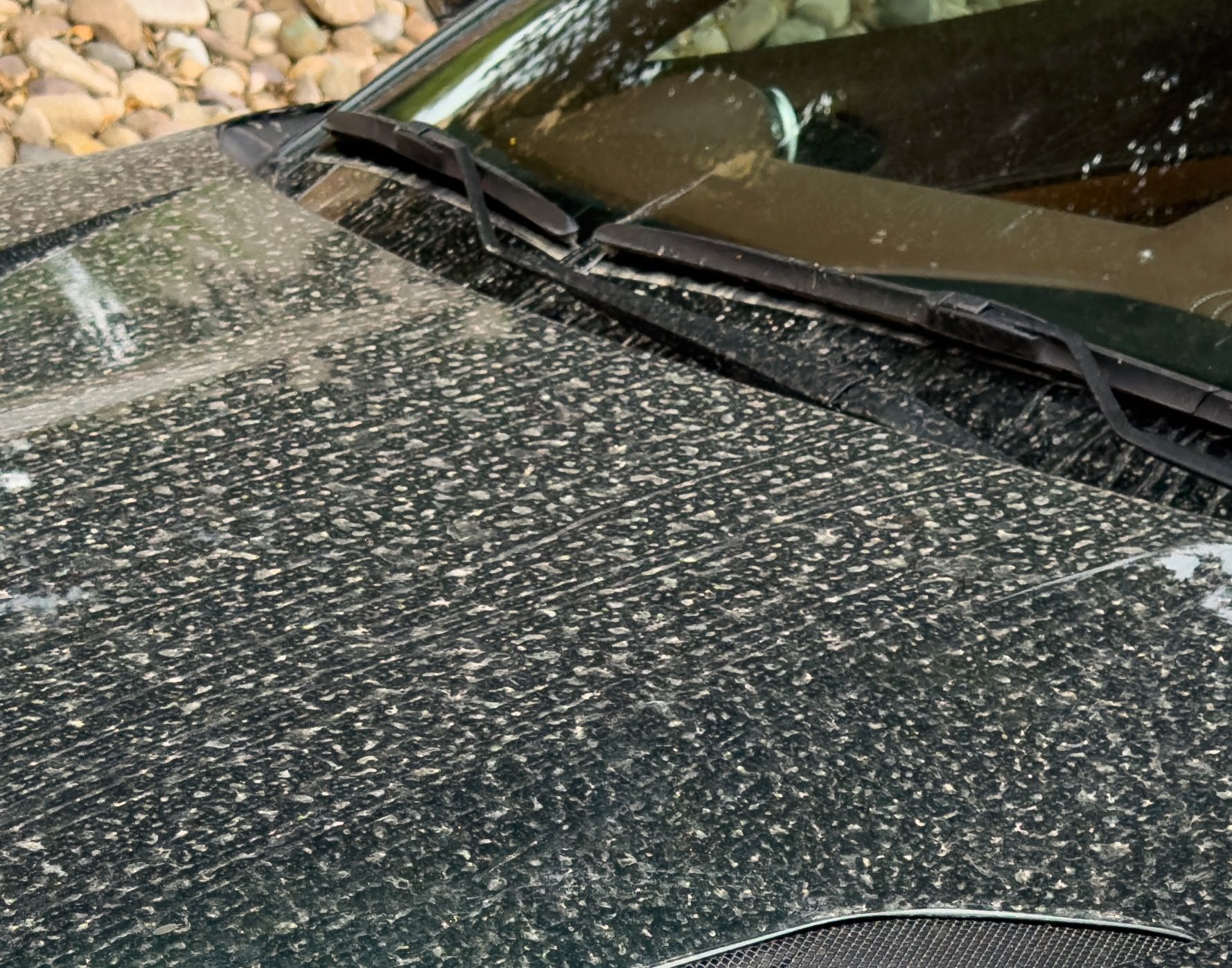 I'm hungry, though. We head into the restaurant and they ask if we have reservations. Um... no? We didn't know we'd come here until maybe 15 minutes ago? "Well, we don't have any tables... I think... yes, we have two seats at the bar." Sure, whatever, food. This was actually really neat. Neither of us knew much about Utah's liquor laws, but sitting at the bar we got to see the measured pours, the "flavoring" labels (gin, if labeled as flavoring, doesn't have to have a measured pour, even though it contains alcohol. Wut?). The food was delicious, and though the bartender was busy, they still spared a few moments to show us the device that measures the pours. There was also a wine glass sitting on the counter containing a yellow liquid, so bright it was almost neon. It just stayed on the counter, as drink after drink went out. Huh.
As we're eating, a nice looking electric sedan pulls up and parks immediately in front of the restaurant. Our tired brains can't quite place the car. Nugget remembers it's a <something> Sapphire, he just can't remember the rest of it. The people who got out of it came into the restaurant, reservation for 2. "Oh, you're here, at the bar" right next to us. Cool, but also wow, we really did get the last 2 seats in the place! Nugget asks what their car is. "A Lucid Air". Oh, right, right, how could we not have remembered that? The other of the pair asked what that bright yellow, beautiful drink in the wine glass was; she wanted it! She asked us, though, not any of the servers. We had no idea either!
Time goes by, we each continue with our meals, and I watch carefully as a server pulls out two wine glasses. One goes on each side of the bright yellow liquid. She pours wine into each glass, then peers at the three glasses next to each other, getting levels even. Oh! That highly visible, distinctly not-wine-colored liquid in the wine glass is how they measure wine pours! Cool!
For desert we had a mousse, ice cream, crumbled cookie, and gummy worms combination that was delicious, but also playful and cute. The crumbled cookie layered on the mousse was a bit like dirt, thus the gummy worms!
Back to the hotel and rest. Tomorrow we drive to Aspen.