Carlsbad to Moab – Utah Road Trip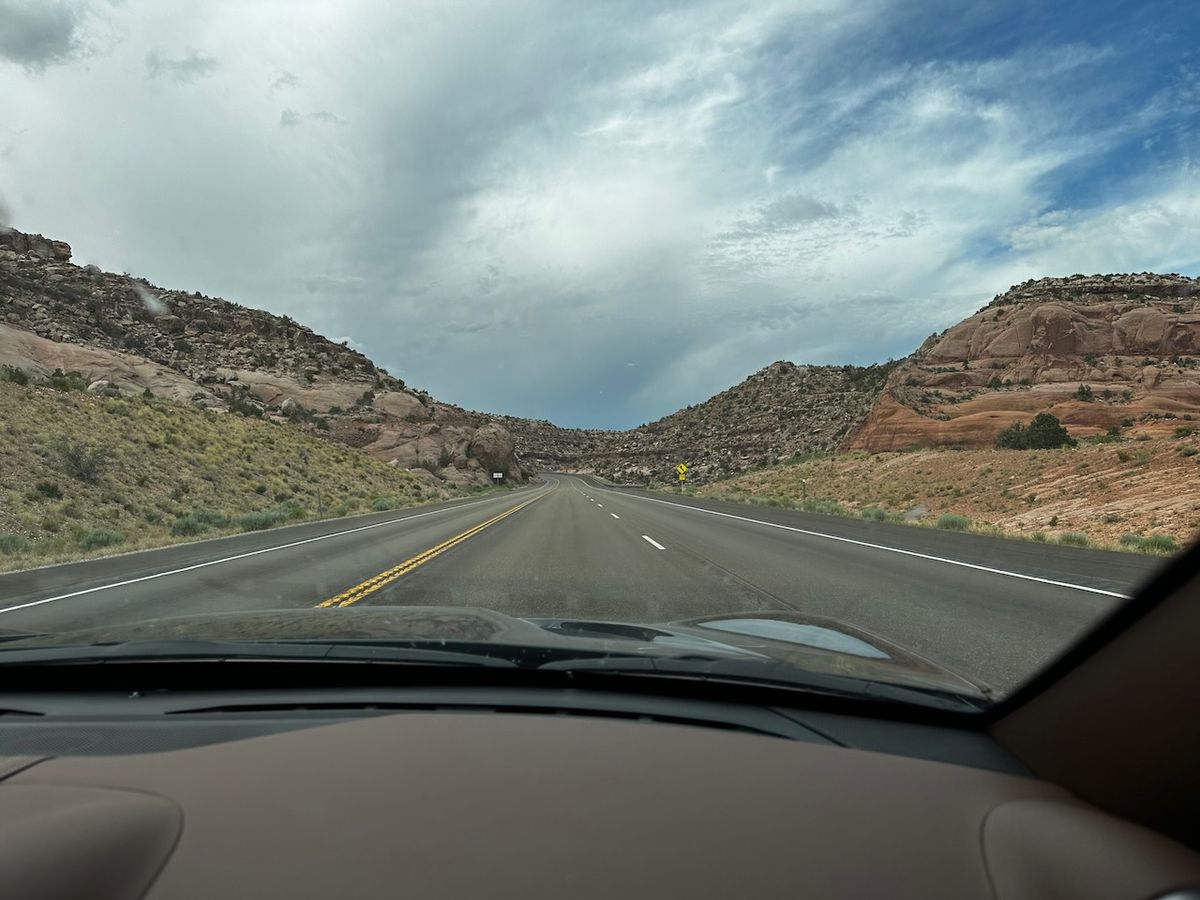 Our planning had day 2 as our most miles per day on our way out to Utah. It's not horribly long – around 640 miles – but we didn't want to pack too much into any one day on our way out. Better to arrive at a driving Adventure not fatigued from too much driving!
I was, again, up early. This southern part of New Mexico is a bit like a lot of west Texas, fairly flat, very steppe, not the most interesting. We'd driven a bit of this stretch (Roswel to Interstate 40) on our recent trip to Santa Fe, as well. But that meant we knew we'd be driving by Cowboy Ruckus! We snagged a photo of the art as we headed north: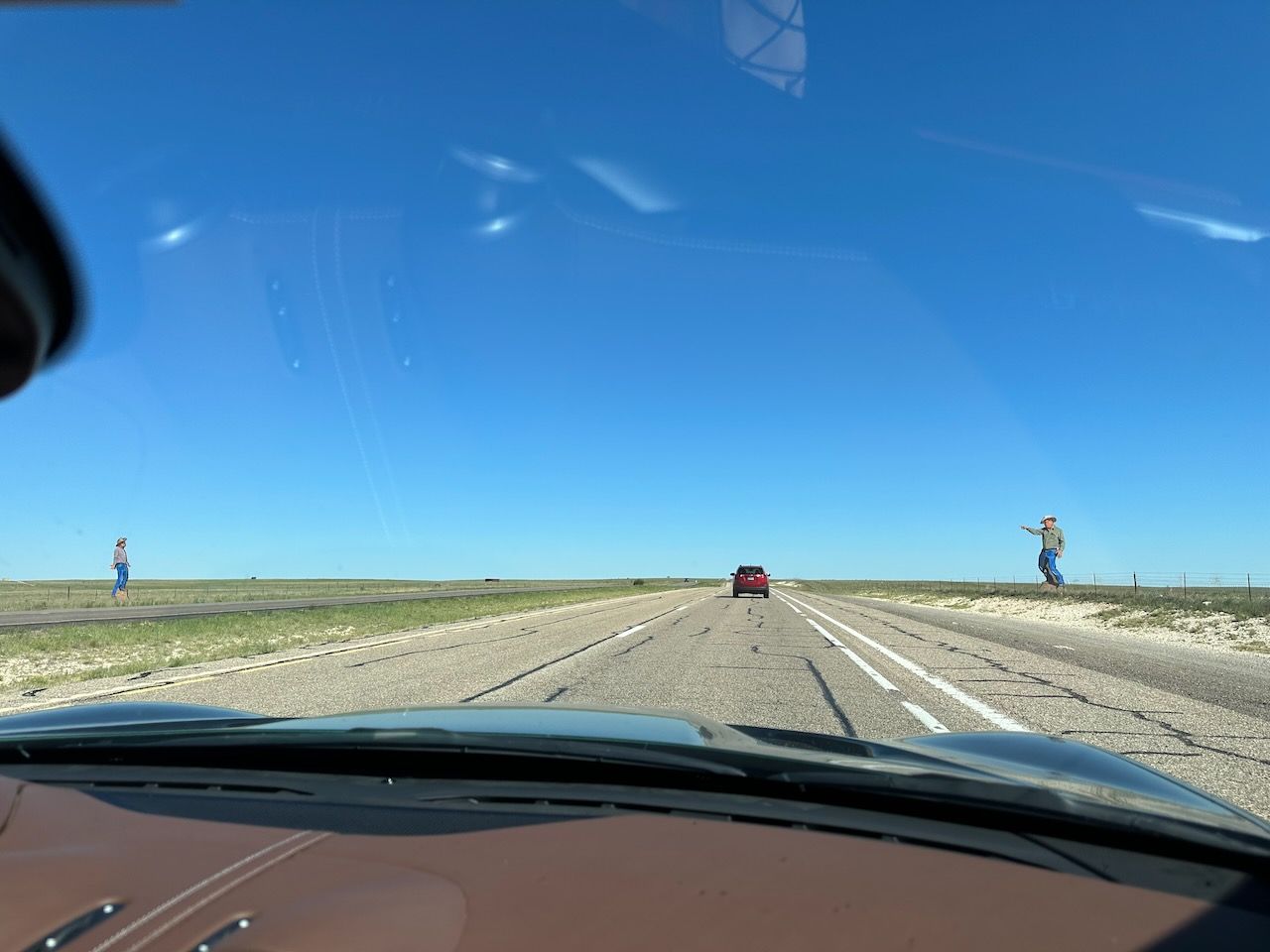 As lunch approached, Albuquerque grew close. We stopped for lunch and as we ate, we noticed a beautiful classic Alfa Romeo Giulia.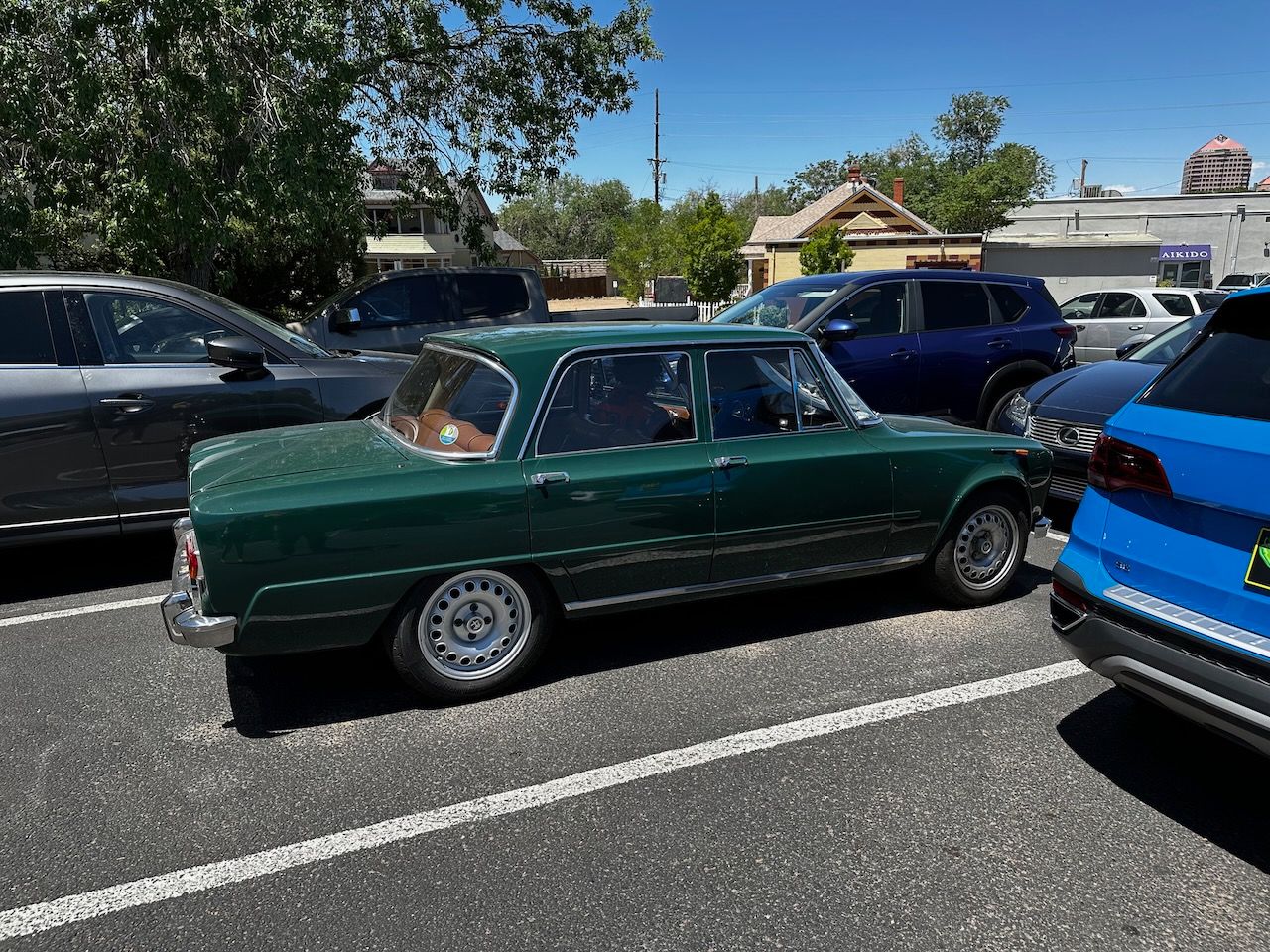 Italian cars like this one inspired our color choices on the Portofino... and are an example of what we hope to be doing with our car for decades. We chatted with the owner, who was out running errands in her fun car, just using it regularly. She was out for lunch in her green with brown Italian car, we were out for lunch in our green with brown Italian car. It was great to connect with her.
Before leaving the city, we had one errand to run. We went to check on Mike at the parking lot booth. After a few wrong turns we found the booth...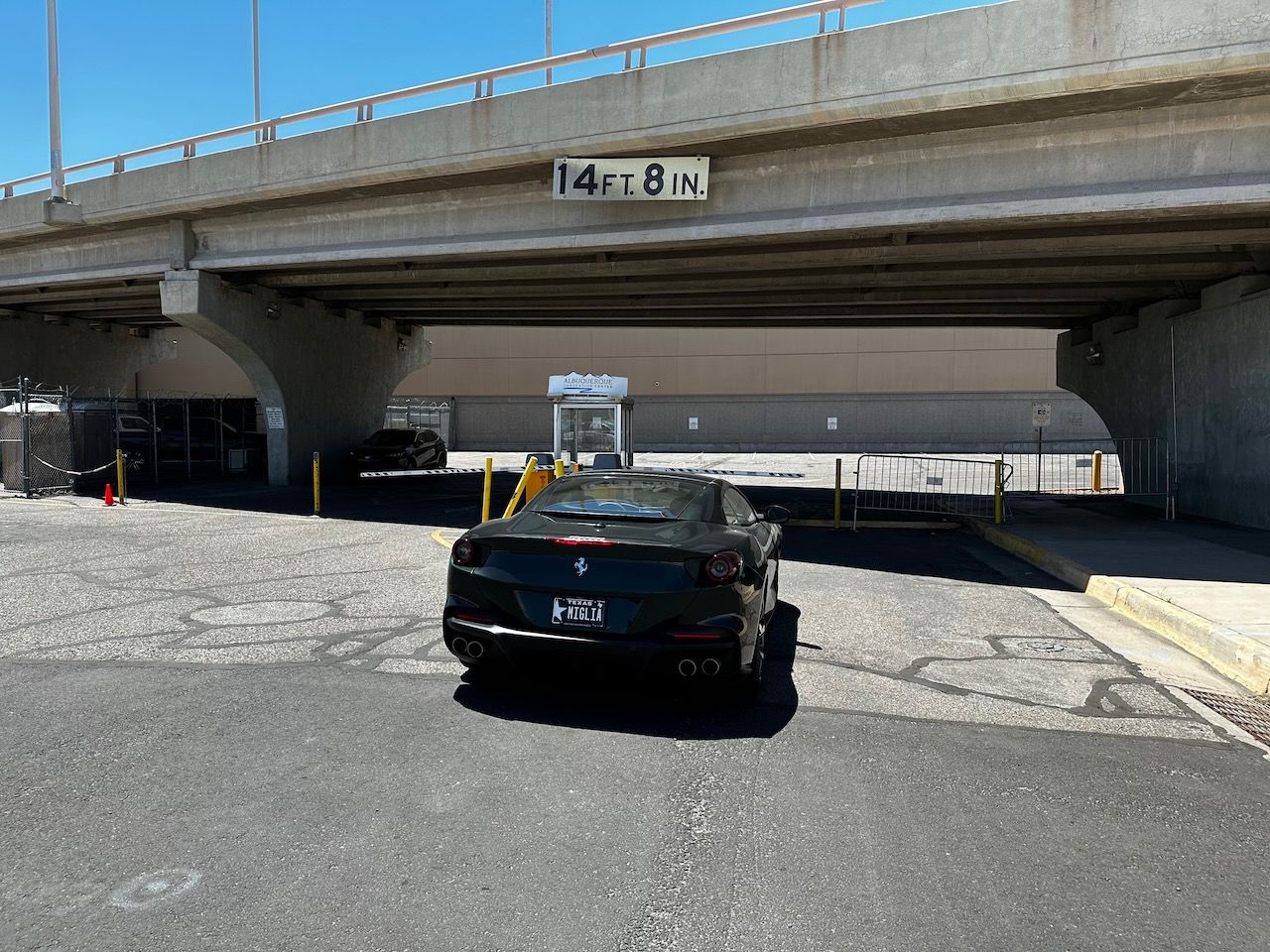 But this wasn't an Albuquerque / Breaking Bad trip. We had many miles to go so left and headed north. This route took us just west of the mountains we'd driven through while staying in Santa Fe, and at first the landscape was somewhat similar: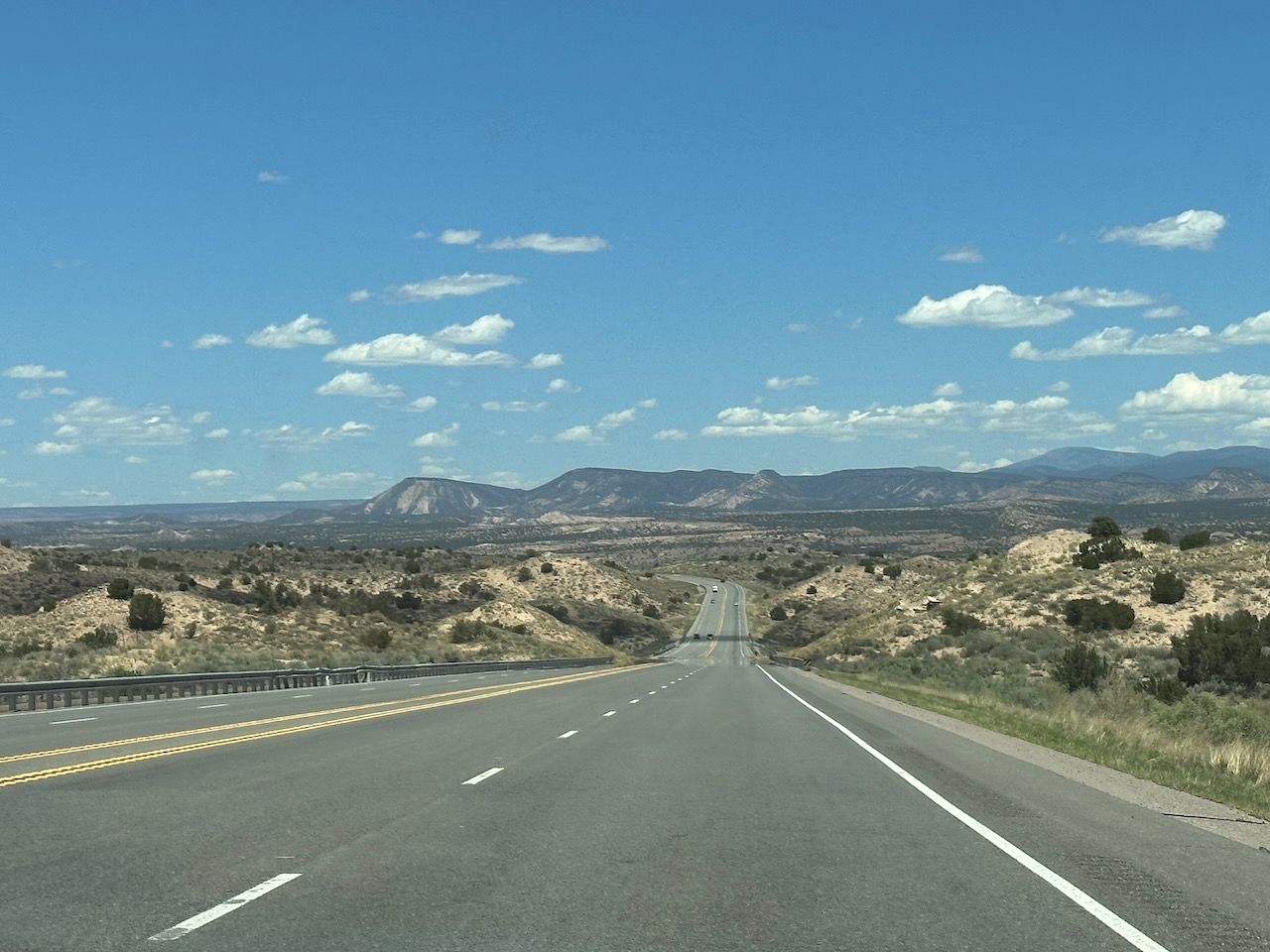 As we continued, the landscape changed. We drove past a distinct white mesa, but of course it didn't occur to me to photograph it. We also crossed the continental divide for the first time on this trip, though I didn't photograph that, either! Come on, equiraptor, your phone has a camera. Use it!
The landscape transformed, as we drove, in truly remarkable ways. My family went on a lot of road trips as a child so though I hadn't been exactly here, I knew to expect some remarkable things. But Nugget had never driven through this part of the country before. It is beautiful, distinct, and special, and watching the land transform before your eyes is fantastic. Nugget gave me a renewed appreciation for the beauty of this contintent as we rolled through.
If I were a better writer, I could put it into words. If I were a better artist I could have taken better photos, videos, better representation. Instead, all nerdy me can do is tell you: it's worth seeing. These dramatic transitions are hidden when you fly over them. Sometimes you need to get there fast, but one day, make the time. Go drive this land. Camp in state parks, like we did when I was a kid, or go on hikes, or whatever. See, feel, smell the changes, notice the grasses, the shrubs, the trees. See the dirts and rocks change. Notice how these affect the people who live there.
Onward, we crossed through the southwest corner of Colorado. I'd been in eastern and central Colorado before. I'd been up Pike's Peak, around Boulder and Estes Park. This part was more dry, between mountain ranges, with plants more like the steppe than the plains. We went west to Monticello (Utah) and then north to Moab. The views were gorgeous.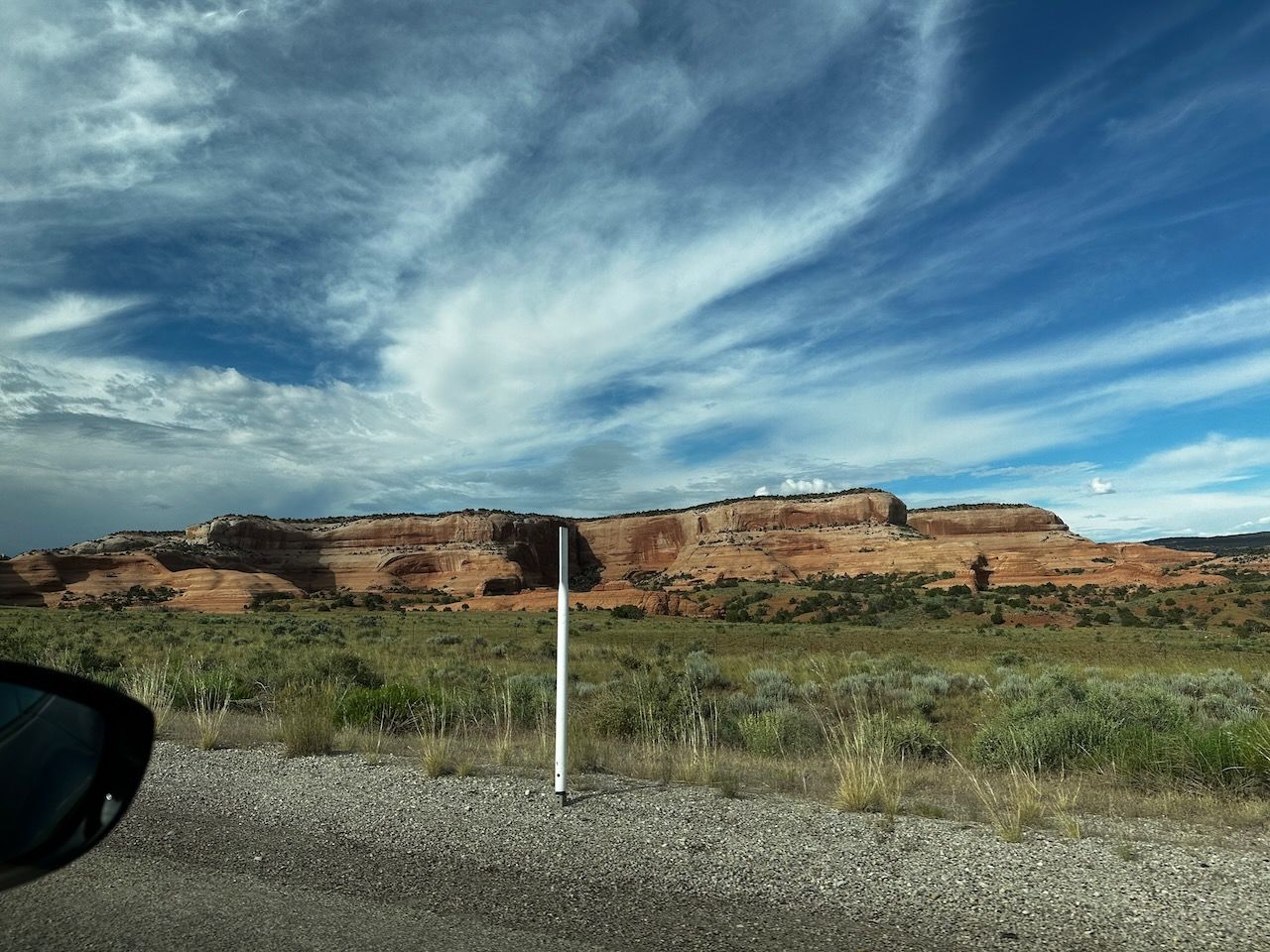 Moab ends up feeling like a sort of resort town, with so much of it (at least that we were near) catering to tourists. There were rental offroaders everywhere, but also things catering to human-powered outdoor activities. We found a fantastic Thai place for dinner, and walked to it from the hotel. It was nice to have our small tour of the city, to settle in and rest, even if just for the one night.
Come morning, we had more driving to do.