Morning in Memphis, on the river, was foggy. No one was surprised. I was up early and wandered around a bit. My eyes caught this mass of purple, deep, beautiful purple. A Charger Scat Pack, sitting there, street parked, along the apartments. Every other car color looked desaturated and sad in that fog, but that purple was vibrant and joyful, even though the dim morning.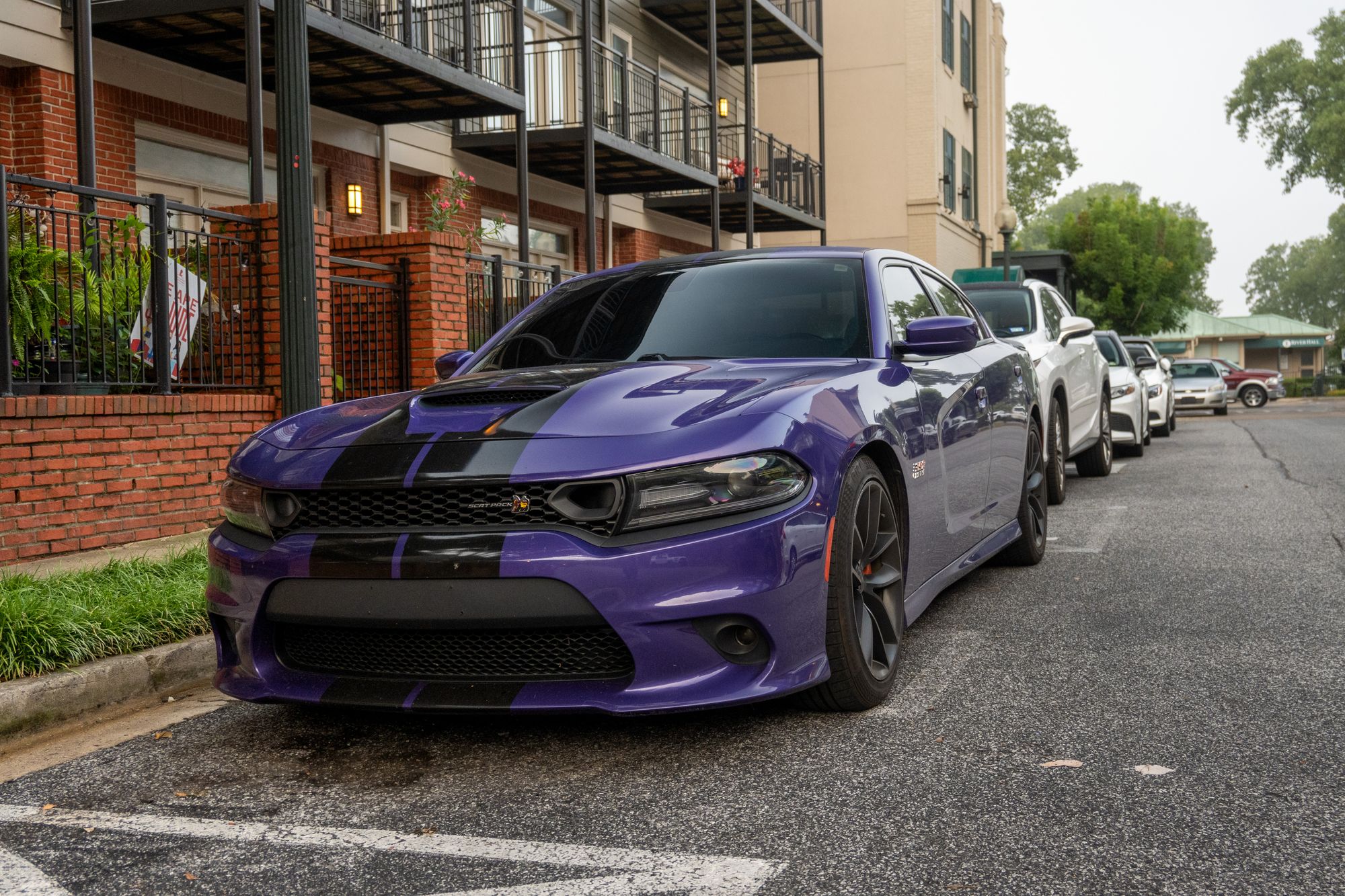 After breakfast we went back across the river into Arkansas, bypassing Memphis, to start our day's drive. As we crossed I realized.... there'd be lots of state lines today. I made a goal to get a photo of each, and we managed it! Tennessee to Arkansas, then to Missouri, Illinois, and finally Indiana. Vroom.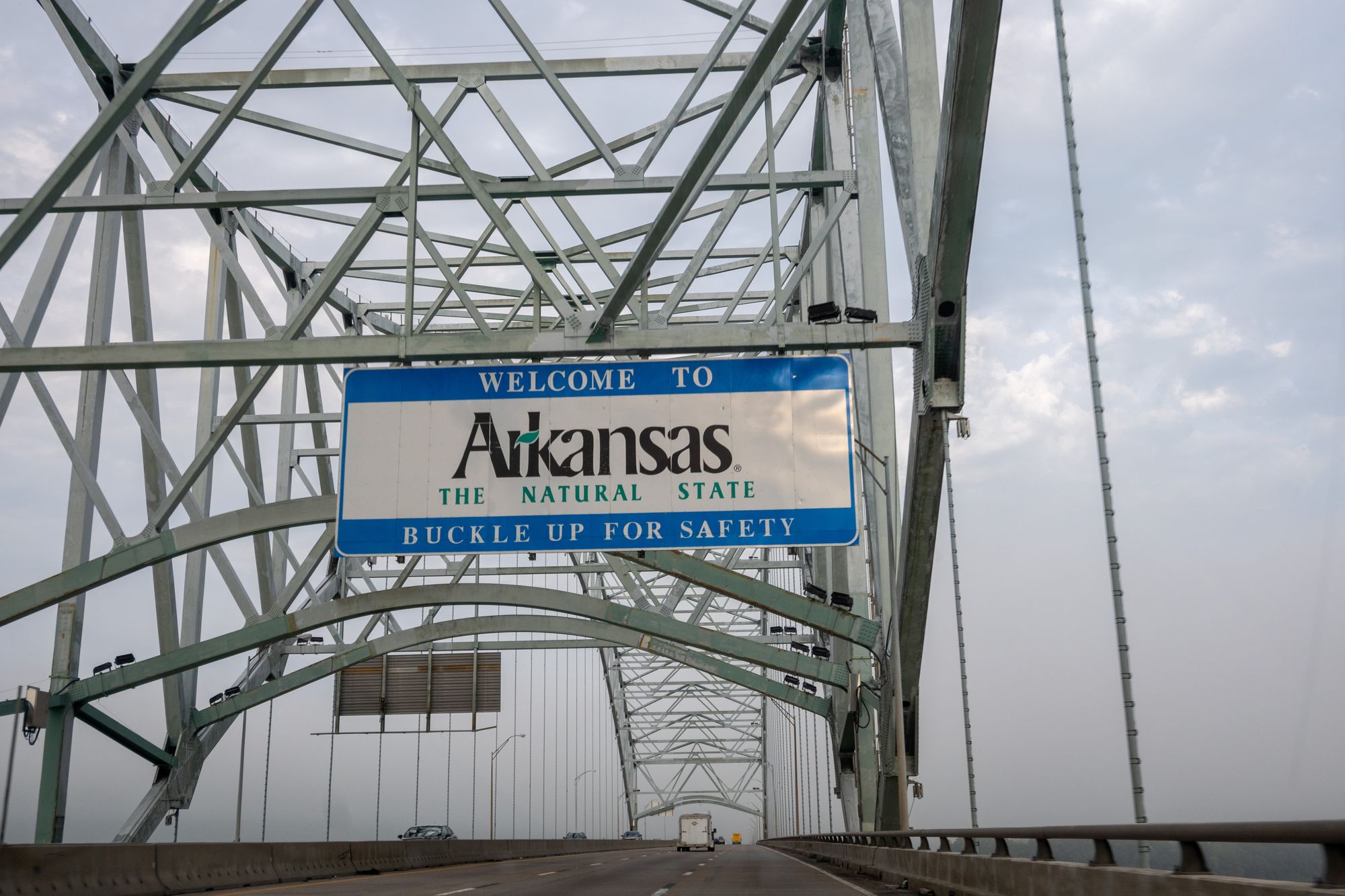 Once again, the miles rolled by easily. On days like this we're getting about 400 miles on a tank, sitting comfortably in the car, soaking up the miles. That's not fun or exciting, but it shows the car's strength as a GT car. Its one flaw in this area is it's not quiet. ... It's still a Ferrari, come on!
We were making good time, so made a brief stop in Casey, Illinois. What's in Casey? A bunch of Big Things in a small town! The "big things" are just scattered in the town, in front of or next to whatever local business put them there. Many are related to the business – mailbox at the post office, taco at a Mexican restaurant, etc. We stopped by the bird cage & mailbox, a key, and that taco, but saw a number of other Big Things as we drove around the town. The sunlight was beautiful there, too, and Verde Silverstone showed its color!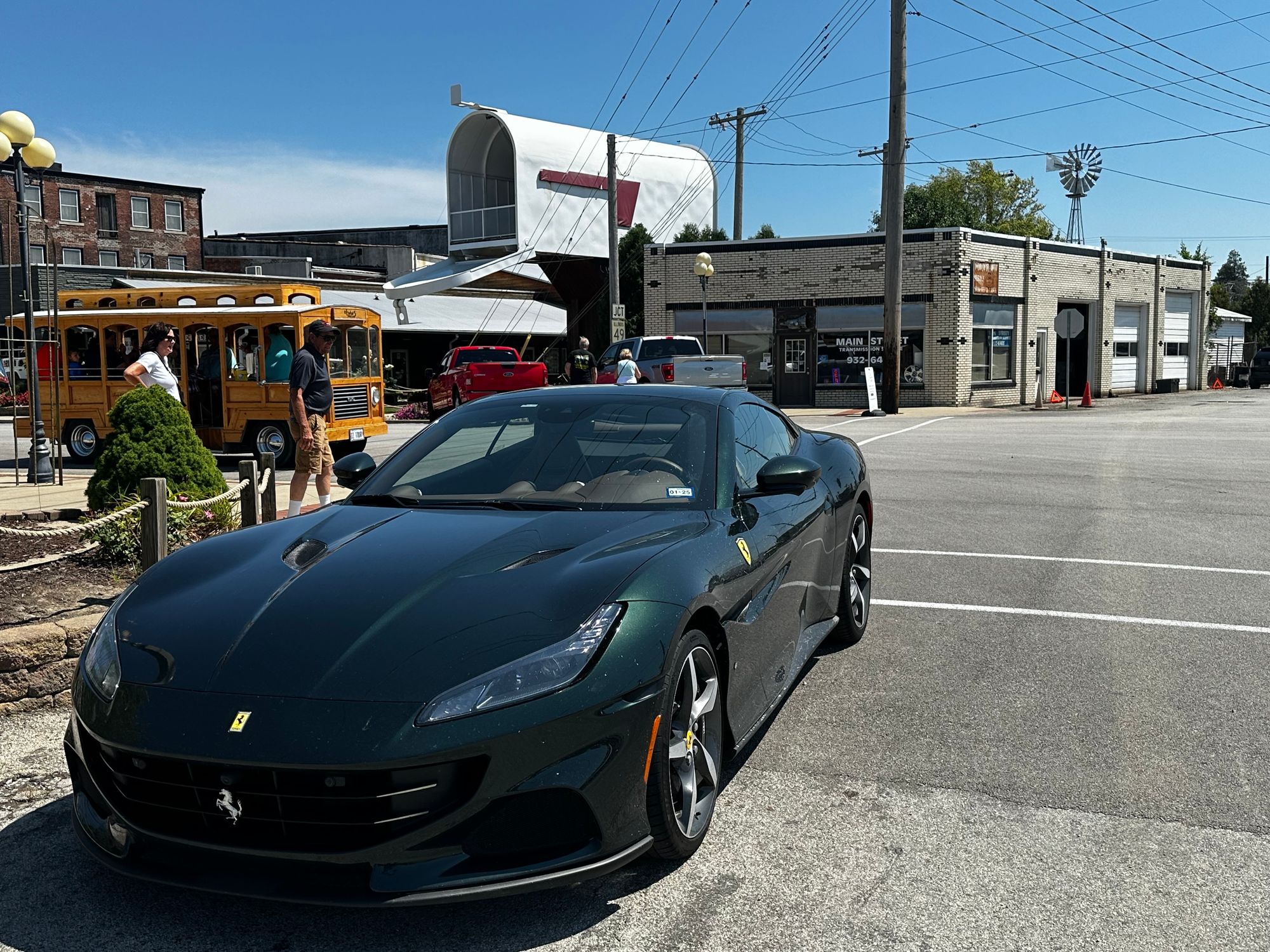 After the quick stop we carried on, made our way into Indiana, and drove through rolling hills (for Indiana...) as we approached Indianapolis. Construction and rush hour meant the freeway in was a slog of traffic, so we ended up hopping off the freeway and maneuvering through little streets. The reactions to the Ferrari have been stronger here than anywhere else we've had it! As we sat at one light, the entire chain of cars in front of us had people leaning out the windows with their phones, taking photos and videos! We're not around homes/apartments, and it's rush hour, so I rev'd the car, made some noise. Everyone's smiling, laughing. When we got to the hotel we valet'd the car and learned this valet has special rules for cars like Ferraris. Special parking spots, only certain people may drive it, etc., etc. On the one hand, I appreciate the care and consideration. On the other hand, I know that look on the young valet employee's face. He's a car enthusiast who wants these experiences! I suppose I appreciate management imposing rules that make it easy for me to trust the valets. This way "management" is the bad guy, and the person there handling the car can bond with the owners over excitement about the car.
After settling into the hotel, we met up with family in town. We went to a very small classic car museum, mostly centered around Stutz. I knew nothing about Stutz before we arrived, and though there were only a few cars, I learned a good deal. I didn't take photos of the cars as I didn't know the museum's rules, but I did photo one of the nameplates. The Stutz Bearcat was an interesting car!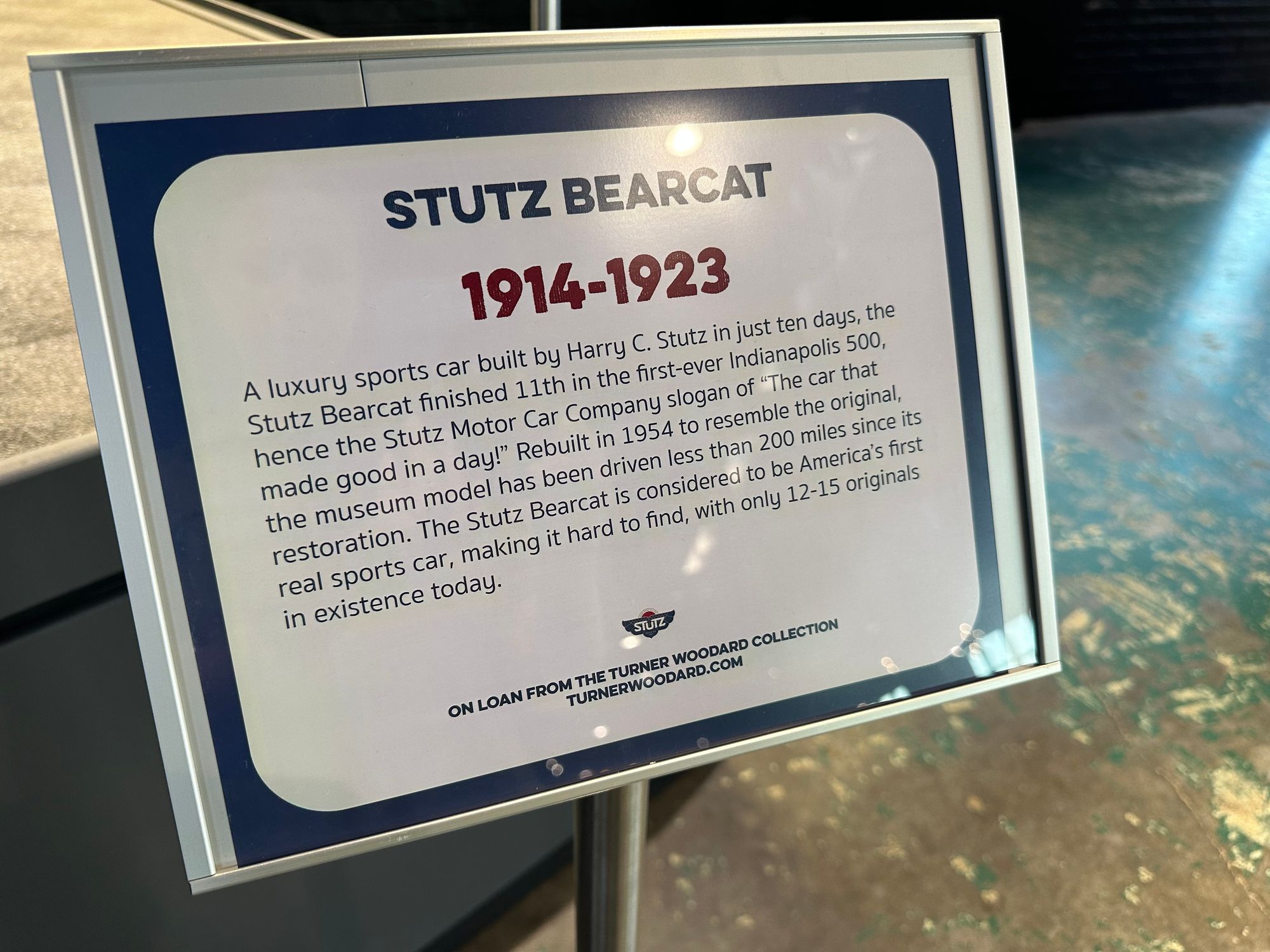 The plate says the model we looked at was "rebuild to resemble the original", and I don't know how true to the original it was. There were Hartford shock absorbers on all four corners, and they looked like they were adjustable! I believe this is a period correct ad from the time, for more info. It was really cool to look at all the parts and pieces, all the components on the car, the lack of bodywork, etc. Apparently a Bearcat was the car used on the drive that inspired the Cannonball Runs, too.
Despite Friday being a "get to point B, just go" day, we still had some interesting moments, learned things, saw many people. A great day, and road trips are wonderful!