I woke up and wanted my coffee. The hotel had a Starbucks on the 2nd floor, so, hey, that'll do, I'll grab some coffee and a pastry for breakfast and we can sort out our day. Unfortunately we could not order ahead at this Starbucks, so I wandered downstairs.
As I walked from the elevators I noticed some ice machines with very nice wood covers over them. A good touch that caught my eye. And across from them, microwaves. Good to know... (and that's about the least subtle forshadowing you've read).
The Starbucks line was long. And it was not fast. It wasn't moving slower than the worst I'd seen, but it wasn't a fast line. There's an event at the speedway this weekend and I find the folks behind me in line are participants, some with race cars to prep, some with journalism responsibilities, various things. There's a rumor that the gate opening has been pushed back 30 minutes. There's a storm rolling through. There's a lightning delay, or so say the rumors, and the race folks around me decide the delay means the line for coffee is not too bad.
Reaching the front of the line, we learn the store's microwave/heating appliance is broken. The cover's off, it looks like someone's trying to fix it, but no hot food and they can't heat any pastries. I remembered those microwaves by the ice makers and didn't worry. As I watched our drinks being made after ordering I saw the people who work at this Starbucks are moving at a good pace. The slow down seems to be the line. This is a line of people who occasionally come to a Starbucks, and they're not quite sure what to order, how to pay, etc. This isn't the efficient work day everyone knows exactly what they want line and the workers making beverages are keeping up.
We were planning to go to a car show this morning, but that storm that caused a delay for the race caused the show to be rescheduled for the next weekend. We still met with another green Ferrari owner, south of the city. He has quite a nice 456 in Verde Mugello. I tried to take some representative photos, and at some point I'll do what I can to post reasonably accurate photos of Verde Mugello, Verde Silverstone, comparisons, etc. Hopefully we can do this with many green Ferraris, try to get some representative photos and descriptions of the colors out into the world.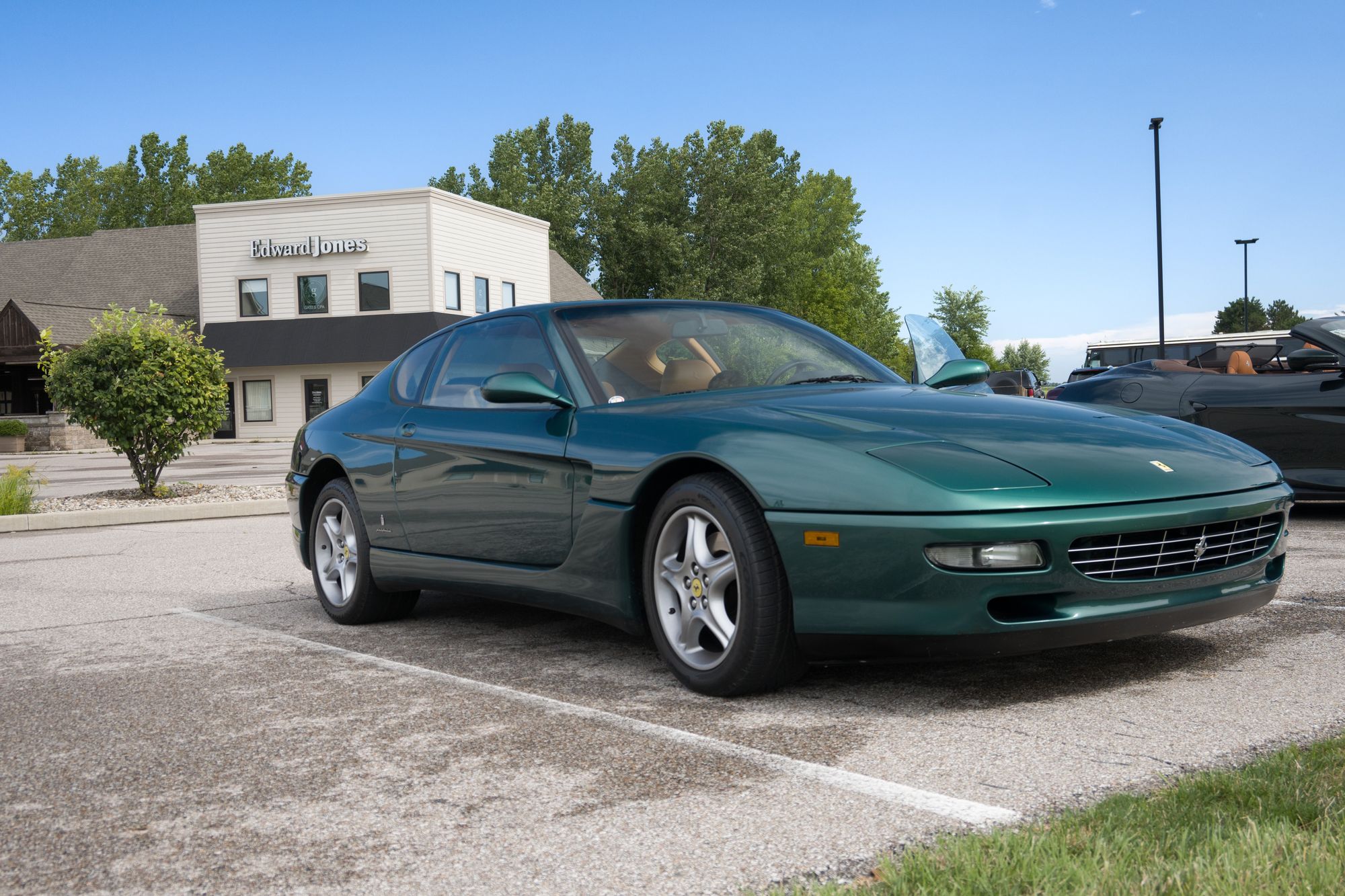 We then explored some of Nugget's old neighborhoods, seeing how they changed. We had lunch at 317 BBQ, and it was quite good. Everything on the menu was exactly as described (sometimes folks try to put a personal spin on things in a way that causes it to not meet expectations – personal spins on things were well described instead of being surprises). They also make their own pickles, and those are some fantastic pickles. One of the joys of travel – discovering great food.
After lunch we headed vaguely NNW to meet some other members of Nugget's family, spent the evening with them. We remain on uninteresting roads, but driving through greenery and in noticeably cooler temperatures than we left back in Texas. It's nice to get a break from the dry!